On March 14th, 2018, the Lucas Museum of Narrative Art (LMNA), designed by MAD Architects, broke ground in Los Angeles' Exposition Park. The creator of "Star Wars" and the museum's founder George Lucas, his wife Mellody Hobson, Los Angeles Mayor Eric Garcetti, MAD partners Ma Yansong, Dang Qun, Yosuke Hayano, director and newest board member Steven Spielberg, the museum's founding director Don Bacigalupi, and Los Angeles City Council members were present for  the occasion.
At the groundbreaking ceremony, George Lucas talked about his vision for the museum:  
"Yes, this is an art museum, but I'm also trying to position it as an anthropological museum. It is my feeling that popular art is an insight into a society and what they aspire to; what they really want, what they really are — it is about telling the narrative of their story, their history and their belief system. I believe all kinds of art have a right to exist. I think it's important to have a museum, that I used to jokingly say, supports all the orphan arts that nobody wants to see, but everybody loves. So that's my dream for this."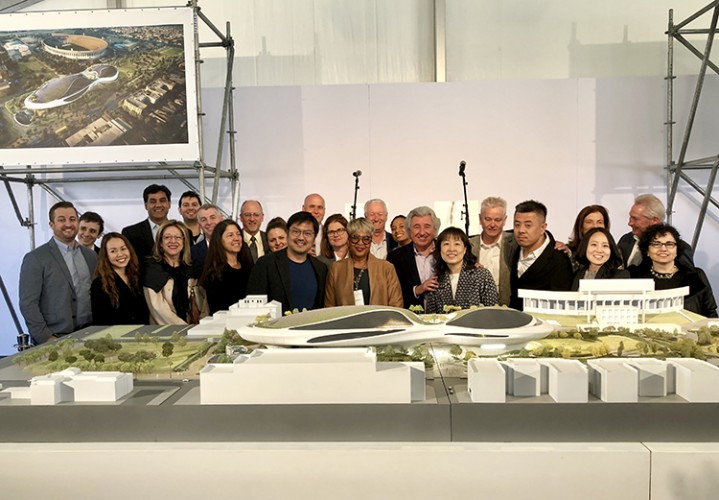 On the design of the museum Lucas stated, "I am an avid architectural fan and I wanted a special museum that was a work of art in itself, and Ma [Yansong] has done that three times."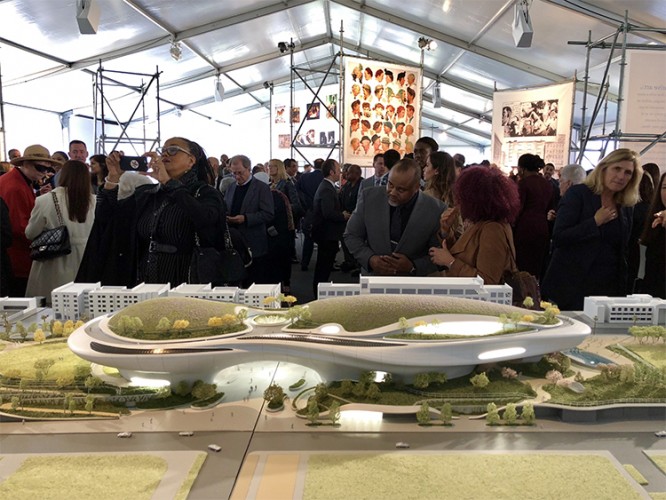 When asked about the project and its final home in Los Angeles,  MAD founder and principal partner Ma Yansong said: 
"An open city with an inclusive culture, especially innovative buildings, is very important. It is a pleasure to work with the American filmmaker and legend George Lucas on creating a world-class landmark for Los Angeles. We hope that the joint efforts will continue to make Los Angeles one of the most creative metropolises in the world."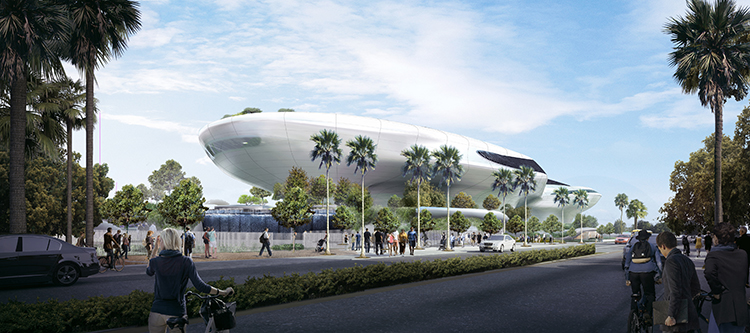 The museum is located in Los Angeles' Exposition Park, and stands as a gateway to the park.  It appears as if a futuristic spaceship, with a mysterious and surrealistic attitude, has "landed" on the site's natural environment. People from all walks of life are welcome to feel and appreciate this cultural paradise. The interior of the building has been designed as a huge bright and open cave. Skylights allow sunlight to flood the interior space, and guide visitors through the museum's various programs. The first floor and roof of the building are expansive public areas that can be enjoyed by everyone. People can exercise here, relax, talk to the surrounding natural environment, and directly experience nature in the urban environment.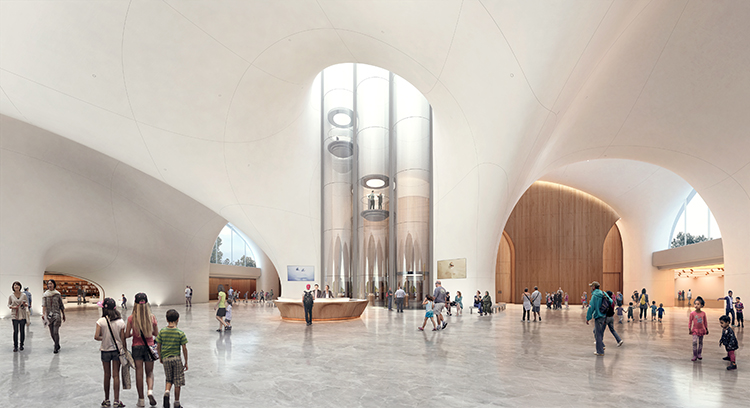 The $1.5 billion Lucas Museum of Narrative Art is a non-profit, world-class museum located in Los Angeles, USA. It covers an area of ​​approximately 11 acres and was created and supported by George Lucas and his wife Mellody Hobson. In 2014, MAD Architects, led by Ma Yansong, won the International Competition of the Lucas Museum of Narrative Art to become the architect of the museum. From 2014 to the present, MAD has provided three very unique designs, each responding to the three proposed locations of the project, with Los Angeles chosen as the final home.
The museum's collection s is worth at least 400 million U.S. dollars and will cover art through three lenses: Narrative Art; the Art of Cinema; and Digital Art. Donated by George Lucas and Mellody Hobson, the expanding collection includes more than 10,000 paintings, illustrations and movie memorabilia. Lucas said that, "the ultimate and all meaning of this museum lies in inspiring people's imagination and allowing people to embrace all possibilities of art creation." The Los Angeles government praised the museum as "the largest public gift ever given to a municipality"..
The museum is expected to be ready for use in the second half of 2021.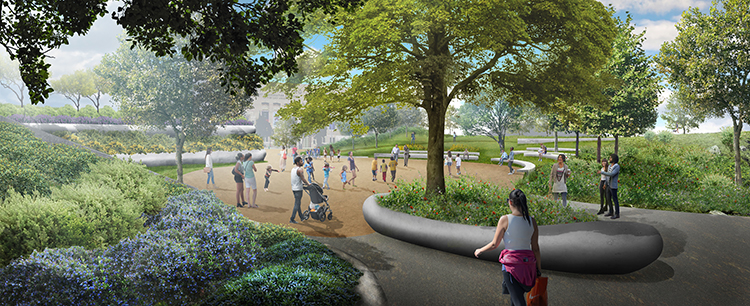 Timeline of the Lucas Museum of Narrative Art in review
2014
May - The museum held an invitation only, international design contest, with MAD invited as the only company from Asia
July - It is announced that MAD has won the competition to be the museum architect
November -  The concept design  for the Chicago museum is announced 
2015
September -  The museum announces plans to deepen the Chicago design 
2016
October - The museum announces it would give up Chicago and make proposals for Los Angeles and San Francisco. MAD's designs for both locations were revealed
2017
January - The museum announces Los Angeles as the final location
June -  The museum receives approval from Los Angeles City Council 
2018
March - The museum officially breaks ground 
Lucas Museum of Narrative Art
Los Angeles (final site), Chicago, San Francisco
2014-2021
Partners: Ma Yansong, Dang Qun, Yosuke Hayano
Competition and Design Team: Kin Li, Tiffany Dahlen, Daniel Weber, Jordan Kanter, Daniel Gillen, Wu Kaicong, Zhao Wei, Flora Lee, Jonathan Kontuly, Carmen Carrasco, Jacob Hu, Satoko Narishige, Zhu Yuhao, Casey Kell, Matthew Pugh, Kazushi Miyamoto, Ben Yuqiang, Hiroki Fujino, Chris Nolop, Kek Seow, Younjin Park, Brecht van Acker, Andrea D'Antrassi, Zhang Yiran,  Pouya Goshayeshi, Dora Lam, Victor Tung, Steven Park Chaffer, Sean Tan, Sheenam Mujoo, Dookee Chung, Cesar D. Pena Del Rey, Valeria Pestereva, Wang Yiqi, Dmitry Seregin, Lin Yuyang, Che-Hung Chien, Zhang Lu, Zeng Hao, Young Koo Kang, Shen Han