The September 2020 issue of a+u: Architecture and Urbanism, Japan's premier monthly architecture magazine, has been dedicated to MAD Architects. Established in 2004, the global architecture practice led by Ma Yansong now has offices in Beijing, Jiaxing, Los Angeles, and Rome. September's edition of a+u celebrates this journey though the theme "dreamscape", with models, sketches, drawings, and images of MAD's finest works. Among the twenty-two iconic art and architecture projects are the Harbin Opera House, Shenzhen Bay Culture Park, Quzhou Sports Campus, and Courtyard Kindergarten, complimented by essays from Fumio Nanjo, senior advisor of the Mori Art Museum in Tokyo, and Frederic Migayrou, deputy director of the Center Pompidou in Paris.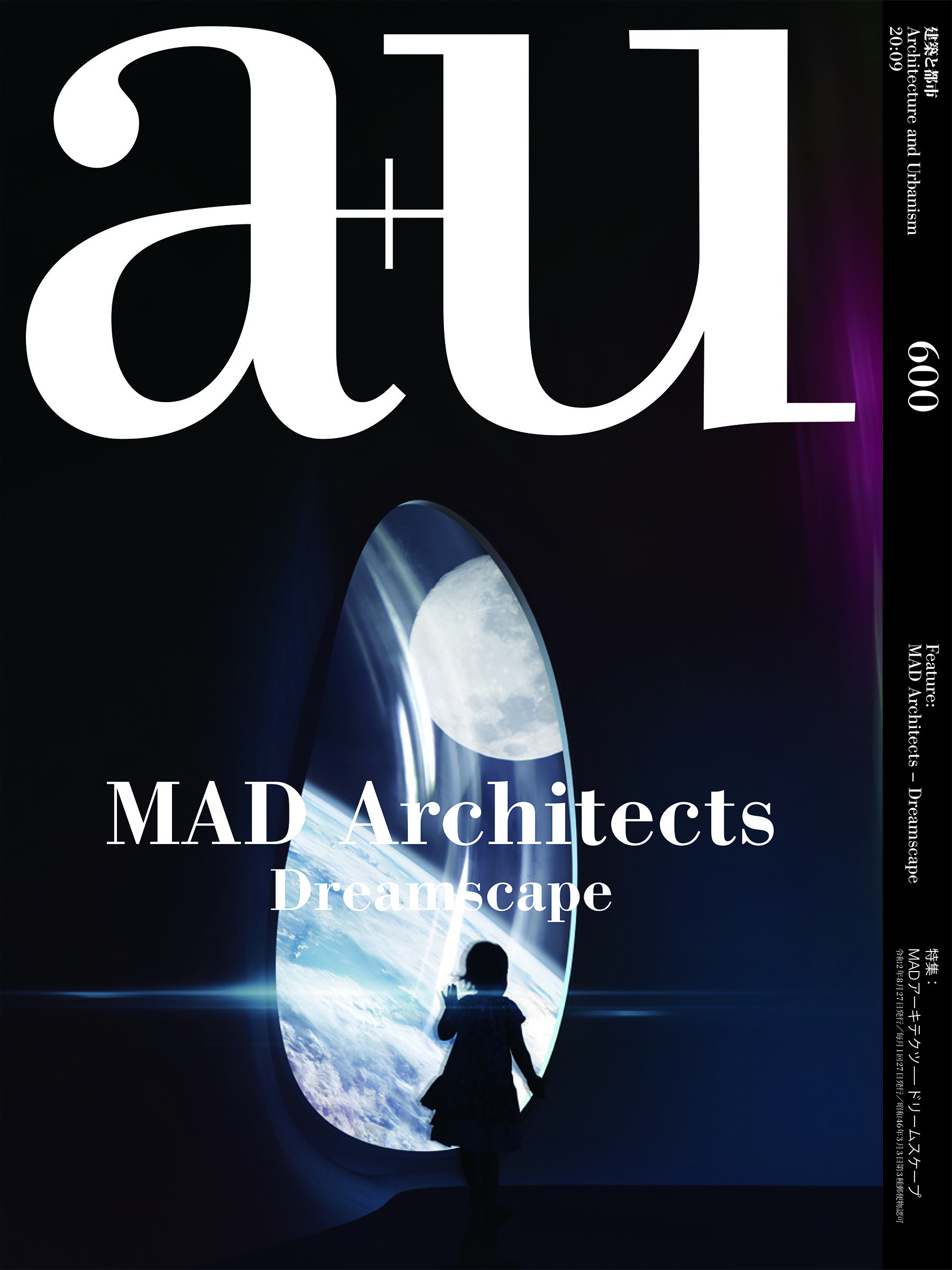 On the theme "dreamscape", a+u elaborates in its preface, "Since its beginning, the studio has been experimental and bold with its futuristic designs… To MAD, it is also important that the environment they built maintains spiritual and emotional connections with people through nature. The result of this combination of technology and nature is a type of fiction architecture that balances itself ambiguously between art and architecture."
Among the material published in September's a+u are drawings and images never seen by the public. These include detail drawings of both the Harbin Opera House, Quzhou Sports Campus, and FENIX Museum of Migration, as well as new images of Beijing's Chaouyang Park Plaza, and the recently completed Courtyard Kindergarten.
In his essay "Architecture, art and beyond", Fumio Nanjo comments, "The architecture that MAD creates is seen as a kind of landscape. In terms of how it takes its starting point from architecture, the landscape undeniably seeks to become a city. Yet, it also represents a new kind of nature that surrounds and encircles us. MAD has redefined architecture as a new nature."
In his essay "Convolutions", Frederic Migayrou writes, "Ma Yansong's architecture is open, and its emerging morphologies resonate with the tensionsinduced by their sites… The Tunnel of Light project defines Ma Yansong's aesthetic quest. 'Space in reality, exists only as a sensual approach. Our feelings and our sensitivity see things only in the context of our daily life. We will not be able to feel the world from the inside until we have closed our eyes, when space and light will touch our soul.'"
September's edition of a+u – Architecture and Urbanism marks the 600th issue of the celebrated journal. First published in 1971, the magazine is Japan's only monthly periodical dedicated to spreading the architectural discourse across the world, with a research network encompassing over 100 countries, and unique contributions from architects, critics, and historians published in English and Japanese.
Essays:
"Convolutions" by Frederic Migayrou
"Architecture, art and beyond" by Fumio Nanjo
Discussion:
"Process behind the structural and façade engineering of MAD Architecture"
by Dang Qun, Gao Ying, Yu Hui
Projects:
Nanjing Zendai Himalayas Center
Chaoyang Park Plaza
Yabuli Conference Center
Huangshan Mountain Village
Quzhou Sports Park
Courtyard Kindergarten
Harbin Opera House
Absolute Towers
Mirage – Montparnasse Tower Renovation
Xinhee Design Center
Shenzhen Bay Culture Park
Clover House
Hutong Bubbles
Ordos Museum
Tunnel of Light
FENIX Museum of Migration
Fifth Ring
Architecture, art and beyond:
Fish Tank
Ink Ice
Floating Island
Superstar: A Mobile Chinatown
MAD Martian Collection
https://au-magazine.com/
https://au-magazine.com/shop/architecture-and-urbanism/au-202009/